The Extensive Mini-YGDAI Card Lineup on a Dante Network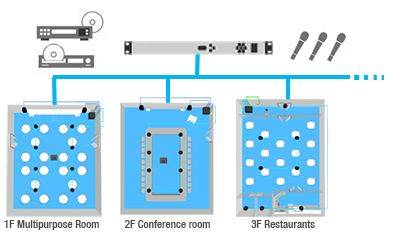 The RSio64-D, the latest addition to the R series, is an audio interface that can convert between Dante and Mini-YGDAI formats for up to 64 inputs and 64 outputs. It provides versatile routing capability as well. Four Mini-YGDAI card slots allow cards for a wide variety of input/output formats as well as processing functions to be connected to a Dante network for live sound, broadcast, recording, post production, and other applications. The RSio64-D also supports remote setup from CL and QL series consoles.
Lots of function to One unit
An Intuitive Graphical Interface for Sound System Design
The MTX-MRX Editor design process is a logical step-by-step analog of the physical installation workflow.
1. Device layout wizard
2. Functional setup
3. External controller setup
Yamaha provides a wide range of remote control options

From a customer perspective, the ability to access simple control of their audio system is crucial, no matter how sophisticated that system is. For this reason, Yamaha provides a wide range of remote control options. These include simple DCP wall panels with wireless equivalents that can operate from an iOS or Android phone or tablet. Then, there is more sophisticated MCP1 programmable wall mount controller, PGM1 advanced paging station microphone and the fully customizable ProVisionare Touch and ProVisionaire Control Apps for iOS tablets and Windows devices respectively.
产品信息如有变动,恕不另行通知。网站上信息仅供参考,一切以具体实物为准。
Ample I/O and Expansion Capability
Versatile Input/Output configuration
The MTX Series feature a combination of analogue and digital. Dante and YDIF connections meaning there should always be sufficient inputs & outputs for the scale of your installation.
Overview: I/O
A closer look at the inputs and outputs of the MTX and MRX processors and provide an overview of the processing available in each one.
SD Memory Card Slot for playback
The MTX Series feature an input/output configuration that is ideal for a wide range of applications: 8 mono inputs (mic/line), 2 stereo inputs (line) and 16 digital inputs via YDIF. The output side consists of 8 line-level mono outputs and 16 digital outputs via YDIF. MTX processors also feature an SD Card Slot for playback of MP3/WAV files stored on an SD Memory Card. The Event Scheduler function allows you to play back these files as music, announcements or chimes—or even trigger external devices with a GPI output—at scheduled times, as well as recall presets stored within the MTX.
Easily increase system inputs and outputs.
The EXi8/Exo8 are input/output expanders for the MTX/MRX Series. EXi8 converts the analog mic/line signal to digital and transmits to the MTX via Yamaha's proprietry YDIF connection. The preamps for EXi8 can be remotely controlled from an MTX/MRX Editor.
EXo8 also connects to the system via YDIF and features 8ch of DA converters that convert the digital output to high quality analog signal.
MTX Digital Network System
Using two types of networking in MTX systems can significantly reduce installation cost and time. The combination of YDIF for shorter system connections and DANTE for larger installations can considerably improve design flexibility.
Audio Network for MTX System
MTX processors feature the newly developed YDIF digital transmission format; a unique proprietary Yamaha technology that delivers 16ch audio and word clock transmission via standard CAT5 Ethernet cable. YDIF can be used for cascading multiple MTX Series or for feeding audio signal to XMV Series power amplifiers with very simple cabling up to 30 metres.
Distribution Mode
- Max. 16ch of audio can be flowed from upper stream device to lower stream device.
Cascade Mode
- Can be used as 8ch cascade buses specifically for MTX.
- Communication can be between multiple MTX.
Dante for MTX (MTX5-D, XMV-D only)
The MTX5-D is equipped with dual Dante ports that allow 16 channels of inputs and outputs @44.1kHZ/48kHz to be run on a redundant network. Both simple and larger, sophisticated Dante network systems can be created using MTX5-D and the Dante enabled XMV-D amplifiers.
Audinate's Dante Network Audio Protocol has been adopted, not only in Processors and Power Amplifiers, but also in many other types of digital audio equipment such as Yamaha Digital Mixing Consoles. In Ver 3.2 and later, supports the HA control of the I/O rack "Rio series"and "Tio 1608-D". This makes it the perfect backbone for larger networked audio systems particularly as connections are not limited to a 30m maximum as with YDIF, but can carry audio up to 100m over CAT5e cable.
A Dante digital network handles all the audio and control data making system alterations and expansion easy. New devices can be added to the network via a single CAT5e cable and quickly configured using the MTX-MRX Editor. Dante networking provides superior system flexibility as well as plenty of capacity for future expansion.
Daisy Chain Network
When building a simple system with a small number of devices. It is recommended to use Daisy Chain.
Since Dante can transfer both control and audio signals with one cable, no network switches are required for Daisy Chain mode.
Star Network
In a star network, each device is connected to a central hub. Using a GbE-compatible network switch enables you to configure a wide-band, large-scale network.
Redundant Network
If it is necessary for higher resiliency against unexpected network problems, it is recommended to use redundant network.
Support for AES67, Dante Device Lock (MTX5-D)
Dante-enabled model of the MTX5-D signal processor now support the AES67 audio network interconnection standard. This allows connection via AES67 to audio networks such as Ravenna, Q-LAN, or Livewire, increasing the expandability of the system.
Also supported is Dante Device Lock, which prevents a third party from modifying Dante settings. This can increase system security in environments such as concert halls where an outside operator is expected to operate the system or bring in equipment.
Smart, Flexible Paging System for Large Commercial Spaces
The PGM1 paging station and PGX1 paging expander are designed to work specifically with MRX7-D or MTX5-D. They work using PoE and connect to the network via Dante. Each PGM1 can be expanded with up to two PGX1 units and up to 4 units of PGM1 can be connected to a single system.
PGM1, PGX1
Yamaha's PGM1/PGX1 are paging stations that can be used with the MTX5-D or MRX7-D. It can be networked via a Dante Network and using Power Ethernet or PoE. This video will show you how to set up the paging station to the system.
Multi-purpose hall
Room A and Room B in the system example are normally used independently for meetings, parties, or other events, and are therefore equipped with audio systems that can be operated separately. The Yamaha MTX3 is a convenient matrix processor that can accept input from multiple audio sources and microphones and route that audio to specified speaker systems. The EXi8 is handy when you want to increase the number of available microphone inputs, for example. DCP4V4S control panels installed in each room can be set up to allow remote control of microphone level and on/off switching.
When the partition is removed and the rooms are combined to form one larger space, an appropriate setup that has been pre-programmed using the MTX-MRX Editor software can be recalled via a single button, instantly setting up the system for central control.
Simple Presentation using the Dugan Auto Mixer.
Using the four Dugan channels of the MTX3 and FBS makes it possible to have a simple presentation system that does not require an operator.
When the Dugan automixer is used, the input gain on microphones being used is automatically increased, while the gain on mics not used is decreased in order to reduce ambient noise leakage. This enhances the clarity of the sound. No specialized technical knowledge or skill is required—the mic gains are adjusted automatically.
Flexible Design and a variety of Custom Control Panels
Yamaha provides a versatile range of remote control options to suit the various installation types as well as the customer's unique requirements. These range from simple wall panel remotes to fully customizable software based control for either iOS or Windows based platforms.
| | ProVisionaire Control | ProVisionaire Control KIOSK | ProVisionaire Touch | ProVisionaire Touch KIOSK | MCP1 | DCP | Wireless DCP |
| --- | --- | --- | --- | --- | --- | --- | --- |
| UI Design | | | | | | | |
| Control | | | | | | | |
| Signal Processor MTX, MRX series | | | | | | | |
| Power AMP XMV series | | | | | | | |
| Power AMP MA/PA series | | | | | | | |
| Digital Mixer CL, QL, TF series | | | * | * | | | |
| I/O device Exi/o, R series | | | | | | | |
| MusicCast | | | | | | | |
| Blu-ray Disk Player | | | | | | | |
| Disklavier | | | | | | | |
| Support OS | Windows | Windows | iPad | iPad | Hardware | Hardware | iPhone, iPod touch, iPad, Android |
* TF-RACK only
Intuitive and simple approach to design flexible controllers
ProVisionaire series provide an easy, intuitive way to create original controllers that are ideally configured for the target installation. Multiple design pages are available so that different control panels can be provided for different audio zones and/or users, with presets and parameter settings optimized for each.
No specialized programming skills are required. An intuitive interface makes it easy to create faders for volume control and switches for source selection.
Customized remote control of Yamaha PA systems
Unlike StageMix, which is dedicated App for controlling a specific mixer, ProVisionaire Control can operate a wide range of Yamaha PA equipment such as MTX/MRX series signal processors, CL/QL/TF series digital mixers, the Rio series I/O boxes and the XMV series power amplifiers. The software programmer can define which parameters from their selection of products are to be included in the ProVisionaire Control design, thus creating a completely customized control surface for their client. ProVisionaire Control offers a total Yamaha control solution.
ProVisionaire Control basic procedure: setup to operation
Step 1: Controller Design
Create a layout with widgets that perform the functions of faders and switches, and assign them to the required control devices.
By using the controller function of ProVisionaire Control, use it as an actual controller to check the appearance and usability.
Once the system is online, all compatible devices can be controlled. The tablet device can be mounted on a wall or other fixed surface, or used handheld for maximum remote control freedom and convenience.
ProVisionaire Touch
This handy iPad application allows MTX/MRX system control via a Wi-Fi network. A variety of control widgets can be arranged as required to create custom control panel layouts that are ideally configured for individual systems.
*ProVisionaire Touch can be downloaded from Apple's App Store at no charge.(Apple, iPad are trademarks of Apple Inc., registered in the U.S and other countries. App Store is a service mark of Apple Inc. ).
Versatile control over a wide range of music and video content
A single iPad can be used to control a comprehensive range of music sources: CD players, NAS storage, mobile devices, Internet radio, and even piano. In addition Yamaha Blu-ray Disc Players and AV receivers. Switching videos and music sources according to the events at restaurants/banquet halls, collectively controlling the volume adjustment of the microphone and video switching at the conference room, it is possible to provide a smooth management system by using a single iPad.
Broad Support for External Controllers
MRX7-D is compatible with a wide range of external controllers, enabling simple volume adjustment and complicated control.
Flexible external control
DCP controllers provide flexible external control of several functions such as preset recall, levels, and SD card playback. The series comprises of three different models that feature various configurations of switches and volume knobs.
The Wireless DCP app for iPhone or Android devices allows you to remote control the MTX/MRX series. Since the Wireless DCP has the same function as the DCP series, you can control the MTX/MRX series via your smart device at any place in the restaurants, banquet halls and so on.
Digital Control Panel - DCP Series
DCP controllers are connected to MTX/MRX series by using a daisy-chain connection up to eight control panels. All three models are available in either US or EU standardized sizes, built to meet the specifications of most regions around the globe.
Digital Controller Hub - DCH8
DCH8 divides the control line from host devices such as the Yamaha MTX/MRX series into up to 8 lines. It allows for a flexible system structure, with a combination of star connections and daisy chain connections as a repeater between the host device and the control panels.
DCP Series/DCH8 Connection Distance
It is possible to connect up to eight units of DCP controller by using daisy chain connections of up to 200m. And, it is possible to extend the connection distance by reducing the number of DCP series that are installed as below. When using 2 or 3 DCP controllers in a commercial space which has a wide floor, a simple daisy chain connection is effective. When using more than 4 DCP controllers in a wide commercial space over more that one floor, a flexible topology (combining Daisy chain and Star connections) can help to extend the "total" cable length by combining a DCP series with DCH8.
Wireless DCP
Wireless DCP
The Wireless DCP app for iPhone or Android devices allows you to remote control the MTX/MRX series. Since the Wireless DCP has the same function as the DCP series, you can control the MTX/MRX series via your smart device at any place in the restaurants, banquet halls and so on.
* Wireless DCP can be downloaded from Apple's App Store and Google Play at no charge.(Apple, iPhone and iPod are trademarks of Apple Inc., registered in the U.S and other countries. App Store is a service mark of Apple Inc. Android and Google Play are trademarks of Google Inc.)
Digital Control Panel - DCP Series
Digital Control Panel (DCP) is a simple solution to control all the sophisticated programming of MTX/MRX processor. Let's take a closer look at the features and learn how to setup the DCPs with the MTX-MRX Editor.
Wireless DCP
Wireless DCP extends the flexibility with the use of smart devices. It provides the same functions of DCP while no cabling is required. This video will explain how to setup the Wireless DCP.
Digital Controller Hub - DCH8
DCH8 extends the flexibility of the DCP's configurations. Take a closer look to the device and learn how to connect the DCPs together with DCH8.
Wall mount control panel MCP1
The Yamaha MCP1 is an advanced wall-mount control panel for controlling MTX and MRX systems. Its dot-matrix display and universal character support facilitates dynamic labelling in many languages including Japanese, Chinese and Arabic. Up to 36 parameters can be assigned to either the main Home page or any of the six sub pages. Any of these pages can be secured from unauthorized access by using a programmable PIN code. Up to 16 units of MCP1 can be added to an MTX/MRX system.
Wall-Mount Controller MCP1
The Yamaha MCP1 is an advanced wall-mount controller for controlling an MTX or MRX System. It allows the user to control their system remotely with more functions than a DCP and with a higher security level. This video will show you how to set up the MCP1 to the system.
Dedicated Software for Total Sound System Design
Central Management of Multiple Sound Systems from a Single PC
MTX-MRX Editor is a software application that is dedicated to the setup and management of sound systems built around the MTX and MRX series signal processors. It can mix audio from microphones, CDs, MP3 and WAV files, deliver different content to multiple zones, set up timer-activated music playback and announcements, and much more. MTX-MRX Editor makes it easy to manage and distribute sound that is optimized for separate areas of a store or facility from a single computer.
Centralized management of multiple network systems with Single PC
Furthermore, in Ver 3.2, for example, in multiple facilities such as amusement parks and shopping malls, it is possible to manage multiple areas separately on multiple subnets for each zone by a single PC.
Various parameters can be controlled from MTX-MRX Editor
The MTX-MRX Editor software facilitates sound system design with a workflow that simulates standard installation procedure. An easy-to-use wizard lets you start by arranging the devices to be used in the desired layout, then processing components can be added wherever needed. MTX series matrix processors, EXi8 input expanders, EXo8 output expanders, XMV series power amplifiers, and DCP digital control panels can be added according to the needs and scale of the application. The MTX-MRX Editor provides comprehensive, intuitive tools for designing sound systems from input to output.
Input Ch
By selecting GAIN/HPF/EQ you can adjust 3-Band PEQ settings for each input channel, as well as each channels' High Pass Filter. GATE/COMP sets Gate and Compressor parameters and FBS/AGC features feedback suppressors that eliminate acoustic feedback, as well as the Auto Gain Control function that maintains a constant output level with input signals that vary in level.
Reverb
Reverb effects add simulated reverberation to the source sound.
MTX has 4 types of Reverb effects.Reverb Hall, Reverb Stage, Karaoke Echo, Vocal Echo.
FBS
A Feedback Suppressor or FBS, is a function that prevents the unpleasant acoustic feedback that occurs when sound from a speaker is picked up by a mic and reamplified.
MTX features two types of FBS, Fixed and Dynamic. Fixed is ideal for installations where the microphones do not move and where the problem frequencies remain the same. If microphones are constantly moving then Dynamic FBS is more suitable as it can constantly update the settings to eliminate feedback.
AGC
AGC (Auto Gain Controller) is a function that automatically compensates the gain according to the input level, keeping a constant output level for an incoming signal whose level is changing. This can be very useful when there are people speaking at different levels or there are background music sources at different levels and there is no technician available to make manual adjustments. The AGC will smooth the output levels making the listener's experience more pleasurable.
Dugan Automixer
The Dugan Auto Mixer is an advanced algorythm designed to manage and optimize the input gain of multiple microphones that are being used for unscripted speech. Having a number of microphones switched on at the correct level for speech can introduce feedback in the system if there is no engineer available to make adjustments. The Dugan Automixer automatically and seamlessly provides gain to a microphone when one person is speaker or shares it amongst two or more speakers mics, thus eliminating the likelyhood of feedback.
1) When no one is talking
When no one is talking, the input level on all microphones is lowered, and the gain levels are set uniformly. At this time, rather than muting each microphone, the gain is distributed between three microphones, so that the total gain remains constant.
2) When one person is talking
When one person speaks, the gain of that microphone instantly rises to 0 dB, and the gain of the other two microphones is lowered. The same thing happens when a different person speaks.
3) When multiple people are speaking
When two people speak simultaneously, the gain level is automatically distributed between the two microphones so that the total gain remains constant, and the gain of the remaining microphone is lowered.
Matrix Mixer
In the matrix mixer, the input channels and output buses are arranged in a checkerboard configuration. You can adjust the group balance for each output bus, or use the faders to adjust the signal from all input channels to a specific matrix bus when Sends On Faders mode is enabled.
The signal from the matrix mixer is sent to 8 units of Priority Processor. Here, you can make detailed adjustments to the parameter settings of the Ducker function as well the Ambient Noise Compensator.
Zone
A zone is an individual space or room within an audio installation that can be independantly treated and controlled. For example, a zone could be a separate area within a restaurant or a second floor within a retail store.
Priority Ducker
A Priority Ducker is a function used to automatically attenuate a zone's output level by a specified amount when the signal from a separate sound source exceeds its threshold. For example, it could be used to reduce the background music level when important emergency announcements are made so as to maximise intelligability.
ANC
An ANC or Ambient Noise Compensator will adjust system gain to compensate for fluctuating background noise levels. A typical example would be at a party when the ambient noise becomes so loud that music or announcements can no longer be heard. The ANC will raise the system volume to compensate.
Router
Once a zone has been created inside MTX, the Router page can then be used to patch that zone to any of the outputs in the system. The router also contains an oscillator that can be used to test the audio system.
Output
After Priority Processor settings have been applied, signals are sent to output channels through the Router. Each output channel is equipped with a 4 Band PEQ, Delay and Speaker Processor. The Speaker Processor has stored presets for a range of Yamaha speakers allowing you to easily select the optimum settings for the speakers in your system. Settings for 4-Band PEQ and Delay can also be adjusted to match the audio output with the acoustic characteristics of various installation environments.
Speaker Processor
The Speaker Processor algorithm contains a range of specialist parameters to tune the speakers in the installation with their environment. These include a crossover for bi-amped speaker systems that offers a choice of specialist filters and polarity adjustment. There is also signal delay, a six band parametric equaliser for fine adjustment and a limiter to protect your speakers.
MTX5-D
MTX3
Mixing capability
Mixing channels
Mixing Channel : 16 Mono + 3 Stereo + 2 Effect Return + 8 Direct-in to Matrix
Mixing Channel : 8 Mono + 3 Stereo + 2 Effect Return + 8 Direct-in to Matrix/ Output Busses : 8 Mono
Input channel functions
Mono CH : 3-band PEQ, Comp, Gate, Auto Gain Control, Feedback suppressor (available in ch 1-8)
Mono CH : 3-band PEQ, Comp, Gate, Auto Gain Control, Feedback suppressor (only available in ch 1-4)/ Stereo CH: 3-band PEQ, Comp, Auto Gain Control
Output channel functions
Room Delay, Room EQ, Speaker Processor, X-Over (1way,2way), Delay, 6-band PEQ, Limiter
Room Delay, Room EQ, Speaker Processor, X-Over (1way,2way), Delay, 6-band PEQ, Limiter
I/O
Phantom power
+48V
+48V
Internal processing
Priority Ducking, Ambient Noise Compensator
Priority Ducking, Ambient Noise Compensator
Sampling frequency rate
Internal
48kHz/ 44.1kHz
48kHz/44.1kHz
Signal delay
Less than 3.0ms (AD-DA @48kHz)
Less than 2.5ms (AD-DA @48kHz)
Total harmonic distortion
Less than 0.05% (+4dBu, Gain:-6dB), Less than 0.1% (+4dBu, Gain:+66dB)
Less than 0.05% (+4dBu, Gain:-6dB), Less than 0.1% (+4dBu, Gain:+66dB)
Frequency response
20Hz to 20kHz, +0.5dB, -1.5dB
20Hz to 20kHz, +0.5dB, -1.5dB
Dynamic range
107dB (Gain:-6dB)
107dB (Gain:-6dB)
Hum & noise level
Equivalent input noise
-60dBu (Gain:+66dB), -83dBu (Gain:-6dB)
-60dBu (Gain:+66dB), -83dBu (Gain:-6dB)
Crosstalk
-100dB
-100dB
Heat dissipation
55.9kcal/h max
43kcal/h max
Power requirements
AC100V-240V 50Hz/60Hz
AC100V-240V 50Hz/60Hz
Power consumption
65W
50W
Dimensions
W
480mm (18.9")
480mm (18.9")
H
88mm (3.4")
44mm (1.7")
D
351mm (13.9")
362mm (14.3")
Net weight
6.3kg (13.9lbs)
4.8kg (10.6lbs)
Others
Memory bank : PRESET 50
Memory bank : PRESET 50
* Total harmonic distortion is measured with a 18dB/Oct fi lter @80kHz.
* Hum & noise level is measured with a 6dB/oct fi lter @12.7kHz; equivalent to 20kHz fi lter with infi nite dB/Oct attenuation.
Analog Input Specifications
Input terminal
GAIN
Actual load impedance
For use with nominal
Input Level
Connector
Nominal
Max. before clip
INPUT 1-8
+66dB
10kΩ
50-600Ω Mics & 600Ω Lines
-62dBu
-42dBu
Euroblock
-6dB
+10dBu
+30dBu
ST IN 1,2
-
10kΩ
600Ω Lines
-10dBV
+10dBV
RCA Pin Jack
Analog Output Specifications
Output terminal
Actual Source impedance
For use with nominal
Output Level
Connector
Nominal
Max. before clip
OUTPUT 1-8
75Ω
10kΩ Lines
+4dBu
+24dBu
Euroblock
Digital Input and Output Specifications
| Terminal | Format | Level | IN/OUT | Connector | Note |
| --- | --- | --- | --- | --- | --- |
| YDIF In | YDIF | RS-422 | 16IN | RJ45 | |
| YDIF Out | YDIF | RS-422 | 16OUT | RJ45 | |
| Primary | Dante | 1000BASE-T | 16IN/16OUT | RJ45 | MTX5-D Only |
| Secondary | Dante | 1000BASE-T | 16IN/16OUT | RJ45 | MTX5-D Only |
Control I/O Specifications
Terminal
Level
Connector
MTX3
GPI 8IN / 4OUT
IN
1-7ch: 0V-5V
8ch: 2.5-24V : High, 2.5V or less, Allowable input +24V
Euroblock
OUT
Open Collector
+V
DC5V
Network
100Base-TX
RJ-45
MTX5-D
GPI 16 IN / 8 OUT
IN
1-15ch : 0-5V
16ch : 2.5-24V : High, 2.5V or less, Allowable input +24V
Euroblock
OUT
Open Collector
+V
DC5V
MTX3 & MTX5-D
REMOTE
RS-232C (BAUD RATE : 38.4kbps or 115.2kbps)
D-sub 9pin (Male)
DCP
-
RJ-45
Exi8/ Exo8 Specifications
EXi8
EXo8
Sampling frequency
48kHz/44.1kH
Signal delay
Less than 2.5ms
Total harmonic distortion
Less than 0.05% (+4dBu , Gain:-6dB); less than 0.1% (+4dBu , Gain:+66dB)
Frequency response
20Hz to 20kHz, -1.5dB min, 0dB typ., +0.5dB max
Dynamic range
107dB (Gain:-6dB)
Equivalent input noise (EIN)
-126dBu (Gain: +66dB)
Phantom power
+48V (per channel; individually settable)
Crosstalk
-100dB (@1kHz)
Heat dissipation (per hour)
21.5 kcal max.
Power supply voltage
100V 50/60Hz
Power consumption
25 W max.
Dimensions (W x H x D)
480(W) x 44(H) x 351(D)mm, 1U
480(W) x 44(H) x 351(D)mm, 1U
Included items
Power cord, Euroblock plugs (3-pin, tabbed) x8
EXi8 Analog Input Specifications
Input terminal
GAIN
Actual load impedance
For use with nominal
Input Level
Connector
Nominal
Max. before clip
INPUT 1-8
+66dB
10kΩ
50-600Ω Mics & 600Ω Lines
-62dBu
-42dBu
Euroblock
-6dB
+10dBu
+30dBu
EXi8 Digital Input Specifications
| Terminal | Format | Level | IN/OUT | Connector |
| --- | --- | --- | --- | --- |
| YDIF In | YDIF | RS-422 | 16IN | RJ45 |
EXo8 Analog Output Specifications
Output terminal
Actual Source impedance
For use with nominal
Output Level
Connector
Nominal
Max. before clip
OUTPUT 1-8
75Ω
10kΩ Lines
+4dBu
+24dBu
Euroblock
EXo8 Digital Output Specifications
| Terminal | Format | Level | IN/OUT | Connector |
| --- | --- | --- | --- | --- |
| YDIF Out | YDIF | RS-422 | 16OUT | RJ45 |
Exi8 / Exo8 Control I/O Specifications
| Terminal | Format | Level | Connector |
| --- | --- | --- | --- |
| Network | Ethernet 100Base-TX | - | RJ-45 |
固件及软件
产品手册
产品说明书
其它
| Name | English | English |
| --- | --- | --- |
| A&E Specifications (MRX7-D) | — | [36KB] |
| A&E Specifications (MTX3) | — | [33KB] |
| A&E Specifications (MTX5-D) | — | [34KB] |
| A&E Specifications (ProVisionaire Touch) | — | [29KB] |
| A&E Specifications (Wireless DCP) | — | [29KB] |
| AMX Control Module (MTX5-D) | — | [4MB] |
| CAD Data (DCH8) | — | [108KB] |
| CAD Data (MCP1) | — | [129KB] |
| CAD Data (MRX7-D) | — | [637KB] |
| CAD Data (PGM1, PGX1) | — | [509KB] |
| CRESTRON Example Programs : MRX7-D | — | [1.1MB] |
| CRESTRON Example Programs : MTX series | — | [485KB] |
| Dante Controller V3.5.0 Release Notes | — | [176KB] |
| Dante Controller V3.5.2.1 Release Notes | — | [176KB] |
| Dante Controller V3.5.3.1 for Win Release Notes | — | [208KB] |
| Data Sheet (MRX7-D) | — | [2.8MB] |
| Data Sheet (MTX Series) | — | [3.6MB] |
| MCP1 Dimensions | — | [132KB] |
| MTX3, MTX5-D, MRX7-D, XMV Series, EXi8, EXo8 Remote Control Protocol Specifications V2.2.0 | — | [1.8MB] |
| MTX3, MTX5-D, MRX7-D, XMV Series, EXi8, EXo8 Remote Control Protocol Specifications V3.1.0 | — | [3.4MB] |
| MTX3, MTX5-D, MRX7-D, XMV Series, EXi8, EXo8 Remote Control Protocol Specifications V3.2.0 | — | [1.3MB] |
| MTX3, MTX5-D, XMV Series, EXi8, EXo8 Remote Control Protocol Specifications V1.0.1 | — | [840KB] |
| MTX3, MTX5-D, XMV Series, EXi8, EXo8 Remote Control Protocol Specifications V1.0.3 | — | [1.2MB] |
| MTX3, MTX5-D, XMV Series, EXi8, EXo8 Remote Control Protocol Specifications V1.3.0 | — | [6.7MB] |
| PGM1, PGX1 Dimensions | — | [166KB] |
| Tested SD cards for Matrix Processor MTX3/MTX5-D | — | [43KB] |